Badminton League
5.56.5089.2
Badminton Game – Smash Your Way to Victory
Do you enjoy playing badminton? Want to play badminton on your phone? If yes, then you will find this badminton game to your liking. Badminton League is an addictive game in which you get to showcase your racket skills on a global stage and challenge badminton players from all over the globe. It lets you experience the intensity and excitement of playing badminton on your phones. Your aim in this game is to defeat your opponents by winning points. You can win points by dropping the shuttlecock in the opponent's half. This can be achieved by using shots like the overhead smash. However, the timing of the shots is crucial or you will miss the shuttlecock altogether, gifting points to your opponent.
Badminton League has fast-paced gameplay. The rallies are quick and you don't have much time to respond to the shots of your opponent. This badminton game is visually quite stunning and has vibrant and colorful graphics. The character models are well-designed, and the court environments capture the essence of the sport beautifully. You can move your player on the court using the buttons provided on the bottom-left corner of the screen. The buttons for playing short and long shots can be found on the screen's bottom-right corner. There is also a button available for playing an overhead smash. This button is available just above the long-shot button. While the controls are intuitively placed on the screen, they aren't that responsive. You will have some difficulty mastering them.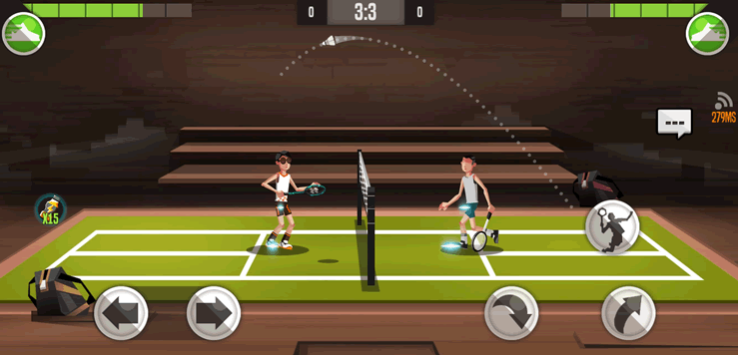 This badminton game offers a variety of game modes to keep you entertained. There is the PvP mode that allows you to play against other online players from all over the world. The matches in this mode have an entry fee and can earn you both trophies and coins. You need to win at least 2 sets to win matches in the PvP mode. The number of trophies you win determines your rank. The higher your rank is the better the rewards you get for winning matches. Do keep in mind that losing matches can lose you trophies as well. Badminton League has a Missions mode as well in which you get to play against AI players. You can also take part in game modes like Golden Pig Battle, Super Series, and Bomb Mode.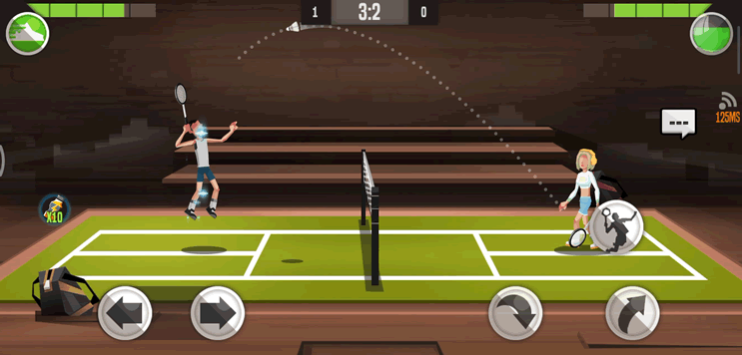 Badminton League lets you customize the appearance of your player according to your preferences. You can choose the hair color, skin tone, and gender of your player. However, you will have to log into the game using your Facebook account to avail this feature. Aside from customizing the player's appearance, you can also equip them with various rackets, shoes, outfits, and head gear. This equipment will increase the endurance and speed of your player as well as the precision of your shots. You have the option of upgrading your equipment as well. Each upgrade will require you to spend a lot of coins, though. This badminton game lets you learn a lot of skills too. You can acquire these skills by beating AI opponents in a tournament format.
Features:
Multiple game modes
PvP mode for competing against online players
Win matches to earn trophies and raise your rank
Compete with AI players in the Missions mode
Unlock skills by participating in various tournaments
Equip your player with a variety of badminton gear
Option available to upgrade your equipment
Conclusion:
Badminton League is a game for badminton fans who want to enjoy playing their favorite sport on their phones. It lets you compete in intense badminton matches with players from all over the world and participate in tournaments in different countries. You will enjoy using unique skills to defeat your opponents in this badminton game.
RELATED PROGRAMS
Our Recommendations
---
---
---
---